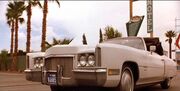 The Great White Whale is the second car driven by Raoul Duke in Fear and Loathing.
Throughout the book and movie, the car recieved many damages. In the book, the car was even driven into lake mede and the tires were over inflated to have insane handling.
In The Movie The Damages include
-The Roof has been ripped up
-The Bumper is about to fall off
-It is dragging a piece of fence along with it
-a part of the Chasis is being tugged as well
-The Lemon Merange Pie hit the winsheild.
-Huge dents from where Duke and Gonzo bashed it with a mallet.
Photo Gallery
Edit